Say The Colour Out Loud, Not The Word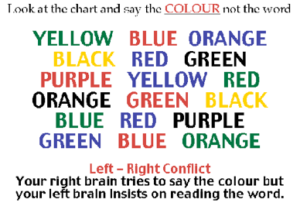 Contact Us
Simply leave your information and one of our friendly staff members will contact you as soon as possible to discuss your needs.
Speak out loud to best test yourself.
How did you go?  Mostly, your left brain takes over as most language is in the left hemisphere.
Draw a large infinity sign on a piece of paper for one minute continuously and then repeat the 'Say the colour and not the word.
It's amazing how quickly a simple Brain Gym (R) can work for you.
EFFECTIVE RESULTS IN AS LITTLE AS ONE TREATMENT